Meet The Hoolios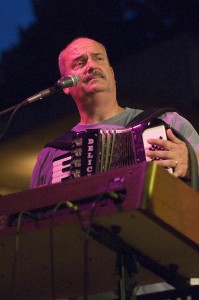 Mike Derry is a long time veteran of the New England music scene.   A member of a number of popular bands, including Cry Wolf, Double Play, Justin Tyme and The Full Dempsey, he is known for his soulful vocals, keyboard work and has also performed on guitar and bass. Upon joining the Hoolios, Mike took up the accordion in an effort to bring some New Orleans flavor to the diverse musical stew that has become the unique Hoolios' sound. Now affectionately called "The Squeezer" by his band mates, Mike continues to draw from his deep musical roots to bring his personality to the sound of The Hoolios.
Sandy Allen has spent a lifetime on his craft. Besides being able to play anything you put in front of him, he has worked as a signed staff songwriter, toured all over the country with Free Beer, and licensed his music for film. In addition to providing harmony vocals, mandolin and washboard for the Hoolios, he plays with Daphne Lee Martin & Raise the Rent and fronts his own original band Corina & the Wenchmen.
Sandy, who goes by "Sandman" for his laid back easy demeanor, is a masterful storyteller and has produced a solo album,  'Horses To Water' and draws from the folk rock sounds of Van Morrison and Neil Young, as well as a bit of that Swing. You can check him out at www.sandmanmusic.net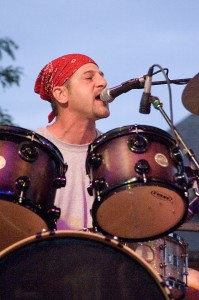 Born in New London, CT in 1968, Ronald J. Lewis is a drummer and vocalist, whose first love of music came as an adolescent child while listening to his older brother's Beatles' albums and thus the pursuit of music began.  Early on, Ron was influenced by Rock & Roll legends like The Beatles, Jimi Hendrix, Led Zeppelin and The Allman Brothers Band. Soon, his experiences evolved and he discovered the alluring R&B soul sounds of Ray Charles, and the Blues of Muddy Waters and Willie Dixon.  Drummers such as Elvin Jones, Grady Tate, Philly Joe Jones, Max Roach and of course, the most influential to Ron, Jai Johanny Jaimoe Johanson left a lasting impression which is seen in his present drumming styles.
Ronnie Lewis is currently associated with many of his musical brothers and sisters, and is still performing and recording around the New England and the East Coast areas of the United States. He is very grateful to be part of the musical family that has shaped his life.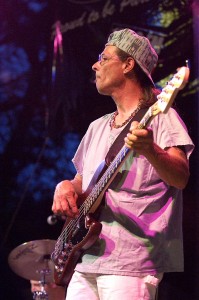 Mike Palazzolo: "I've just finished reading Tal Wilkenfeld's bio. Jezuz….when I was 20 years old, I was just finishing a four-month run in Sumter, South Carolina, playing cover-rock in a country-western bar.
To be fair, forty-some-odd years of chasing my own personal bowl of M&Ms has not been without its highlights. I can take a pencil to a road atlas and draw for you a pretzel tour of one night stands covering the eastern half of the United States. I've shared venues with a number of instantly recognizable performers, played in meccas like Nashville, NYC, Boston and Occum, and continue to perform and record, maintaining long-standing collaborations with the Village Jammers and the Rivergods. I still have all of my hair and most of my teeth. I'd say that's pretty sweet (and just in case, I prefer peanut M&Ms)."