Loco Dare Productions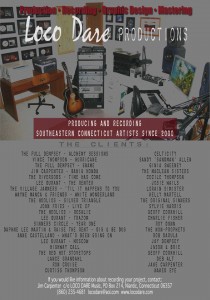 Loco Dare Productions was founded by Jim Carpenter in 1991.  Loco Dare is a small, full service music production company (Loco Dare Records, Loco Dare Music Publishing ASCAP) offering:  concept development/consulting, photography, graphic design, music producing/arranging, engineering/recording (Protools), editing, mastering.
Client projects include:
The Full Dempsey – Alchemy Sessions
The Full Dempsey – Shame
The Rivergods – Time Has Come
Vince Thompson – Hurricane
Jim Carpenter – Bahia Honda
Lee Durant – The Renter
The Village Jammers – 'Til It Happens To You
Wayne Manca & Friends – White Wonderland
The Hoolios – Silver Triangle
The Hoolios – Rosalie
The Hoolios - The Dream

John Fries – Live EP
Lee Duran – Trazom
Sinners Circle – Year One
Daphne Lee Martin & Raise The Rent – Dig & Be Dug
Roy Dunn – Hometown Jamboree
Jim Carpenter & The Hoolios – The Dream
Ginia Sweeney
Celticity
Anne Castellano
Jay Dempsey & Highway Call
The Red Hot Stovetops
Lance Grandahl
Rob Darula
Ron Cruise
Naked Eye
Sandy Allen
NEWS
Jim has released a third Hoolios cd.   Entitled The Dream, it features guest musicians: Marci Kelly, Rob Funk, Matt Kerney, Richard Shook, Wayne Manca, Daphne Lee Martin, The MacLean Sisters, Jake Carpenter, Laura Light, Pat Perry, Mike Golembeski, Lou Bocchiarelli, Corina Malbourn and fellow Original Sinners (John Fries, Ben Parent and Hugh Birdsall).
Lee Durant's latest untitled cd is due to be released in 2013.
Final mixing has begun on The MacLean Sisters upcoming album.
Brian McKenzie is currently tracking and overdubbing at Loco Dare for a CD release this summer.
Sue Mead has been compiling tracks for a future CD.
The Village Jammers are back in the studio to finish a Gypsy-Jazz/Latin flavored project . . . fine songs and a new direction for the band.
If you would like more information or discuss a future project, contact:
LOCO DARE Productions
PO Box 214
Niantic, Connecticut 06357
(860) 235-4681
locodare@aol.com